This classic lasagna recipe comes with a story, and it has been the bane of my existence for months.
Back in November I got the idea that I wanted to share a lasagna recipe with ya'll. Who doesn't love lasagna!? I had ideas flowing from all over. I decided I would give you a White Sauce Roasted Veggie lasagna with roasted garlic, spinach, zucchini, and all sorts of other deliciousness. It had so many good things in it that it was bound to be out of this world good.
So I made it. And it was lacking, like big time lacking. It was edible for sure but not something I was dreaming about (and I dream about food *ahem* a LOT so this is not an unlikely goal for a dish to achieve). I was totally disappointed because it should have been delicious.
For my next lasagna I decided I'd tone it down a bit. I decided to cut most of the roasted veggies out and go for a roasted tomato, garlic, and spinach, with white sauce. It was much simpler. But still lacking.
Next I went simpler, white and red sauce with three cheeses and spinach (I REALLY wanted to make spinach happen)…and I still didn't feel like it made the cut.
So I went simpler. Like really simple. In fact, when I was about to give up my quest for the perfect lasagna I remembered that my sister had made a pretty stellar lasagna when she was living with me about a year ago, so I decided to hit her up for the recipe. The conversation went something like this.
Me: "Hey Sissy, I am in utter despair and about to give up my dream of making the perfect lasagna, but I remembered that you made my favorite lasagna ever and I thought you might be able to bring some light back into my lasagna loving life."
Sissy: "Oh, that!? I LITERALLY googled easiest lasagna recipe ever and I picked the one with the fewest ingredients."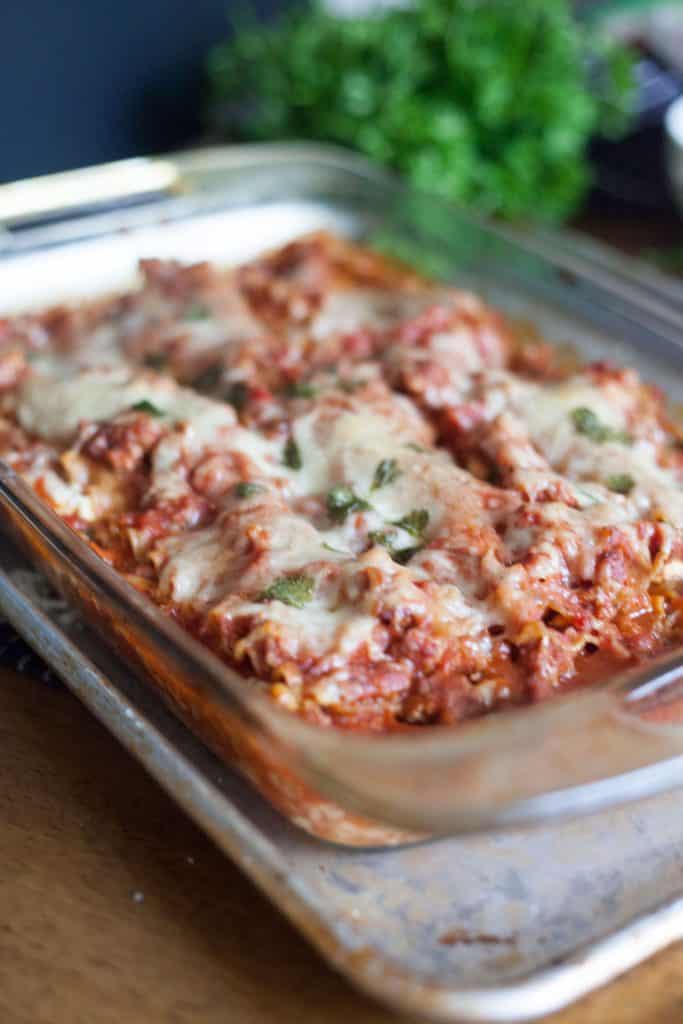 Cool. Sissy tends to not overcomplicate things, and it tends to work out for her. I on the other hand am an overcomplicate-things fool, mastermind, really (use this sentence as an example of something that is unnecessarily overcomplicated). For real.
Anyway, long story short, (or more accurately, short story long…sorry folks). I got the recipe from my sister, tweaked it to be a more "from scratch" version (I've gotta be true to myself, folks), and whoila, I give you this easy classic lasagna recipe.
This lasagna involves a homemade red sauce, italian sausage, mozzarella and ricotta cheese, dry lasagna noodles (that don't need to be pre-boiled, SCORE!) and that's basically it. And that's awesome.
So if you are looking for a simple, from scratch recipe, that is sure to WOW, this easy lasagna will not disappoint.
How about you readers, are any of you over-complicators like me!? How do you keep life simple?
Print Recipe
Though this lasagna is simple, it does not lack in flavor. The homemade pasta sauce comes together quickly, and this dish is easy enough for a weeknight but also sure to impress for company.
Ingredients
For the Sauce
1

Large Can (29 oTomato Puree

1

Can (15 oPetite Diced Tomatoes

1

tsp

salt

1 1/2

tsp

Italian Seasoning

1

tsp

dried minced onion

1/2

tsp

dried basil

1/2

tsp

onion powder

1/2

tsp

garlic powder

1/8

tsp

cayenne pepper
For the Lasagna
9

Lasagna Noodles

I used whole wheat

1

lb

Italian Sausage

16

oz

Ricotta Cheese

2

C

Shredded Mozzarella Cheese

1/2

C

HOT water

Fresh Parsley (for garnish

optional)
Instructions
Combine all ingredients for a sauce in a medium sauce pan and bring to a boil. Reduce heat and let simmer for as long as you have time (ideally about 1 hour).

While the sauce is simmering, heat a large skillet over medium heat. Add italian sausage and cook, using a wooden spoon to bread up the pieces until browned and cooked through.

Drain sausage and add it to the sauce.

Preheat oven to 350 degrees F.

Spread ~1 C sauce in the bottom of a 9x13 inch casserole dish. Layer 3 UNCOOKED lasagna noodles on top of the sauce. (This may not seem like enough pasta, but it will spread as it cookSpread 2/3 C ricotta cheese on top of lasagna noodles (ricotta layer will be a little thiand sprinkle with 1/2 C mozzarella cheese.

Repeat this process 2 more times.

On the last layer, add remaining sauce and mozzarella cheese to the top of the lasagna. You may also garnish with fresh parsley before cooking.

Next, pour the hot water slowly around the very edges of the pan, this added liquid helps ensure that the uncooked pasta gets nice and tender and not chewy.

Cover the pan tightly with tin foil, bake for ~1 hr until the sauce and cheese are bubbly and the lasagna noodles are tender.